Flangeless, easy to clean with clean-flush valve, plus, loaded with small scale whip-capable "Twin Star".

This is a filter made of cleanser-friendly and worm-resistant Teflon and is used at the time of decolorizing.

This is a flangeless and cleanser-friendly caldron designed to analyze GL crystal caring for cross contamination.
Clean with cleansing nozzle, open a casing, and check conditions by eyes.
[Below] When it opens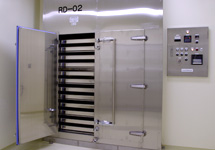 [Above] Cosmomizer
This is a micronizer to crush to l0 or less microns.
[Below] Hammer Mill
This is a micronizer to crush to 10 - 30 microns.